Changes to the Curriculum
at
Hatton School
Please click the links above to go to each section or scroll down
Previously at Hatton we have been teaching the National Curriculum which has been differentiated to meet the individual needs of the children. This was taught through topics which changed every term.
the profile of the children coming to Hatton has changed over the years.

Feedback from teachers was that the curriculum was not always meaningful or purposeful for our children who are developing skills at an early level.

Changes in OFSTED and the National Education agenda have allowed for flexibility for curriculum development in special schools.

As a school we wanted to have a greater focus on the individual barriers to learning that out children experience.

We wanted to develop a curriculum that allows for even greater personalisation for the different needs of the pupils

Having a focus on communication and independence skills as well as the national curriculum meant that the weekly timetables were very full and there was not always time to consolidate new skills.
In March 2019 we carried out a curriculum review with both parents and staff members . We asked the following questions:
What is working well in the curriculum now?

What would be even better if?

In the future what do you feel we should be teaching our children?

What skill do you think your pupils need to develop for the future?
Throughout all the responses it was clear that the key areas to focus on were communication, independence skills, self –regulation and awareness of danger and keeping themselves safe, as well as maintaining a focus on English and Maths.
We also looked at what the curriculum was like in other schools.
Our aim for the curriculum going forward!
When looking at changes we would make to the curriculum we identified that we wanted to develop a curriculum that maintained the high expectations we have for the children as well as developing them in the following ways:
children who are spontaneous communicators and who are able to make a choice and interact with others.

Children who are able to access and engage with personalised learning opportunities.

Developing a curriculum that promotes the positive wellbeing and resilience of all pupils.

children who are ready for the next stage of their education and learning.

Children who are able to self-regulate their behaviour and sensory need, as well as keep themselves safe.

Children who are independent and confident.
The Hatton Curriculum going Forward
We have broken down the curriculum into 4 different levels:
Early years Foundation Level

Pre-formal—P1 –4

Semi-Formal—P4-7

Formal—P8—National Curriculum levels.
This will be taught through a three year topic framework.
The curriculum will be taught through seven focus areas:
communication and Language

Physical Development

Social and emotional development

Literacy

Mathematics

Understanding the world

Expressive Arts and Design
RE will be taught as a separate subject.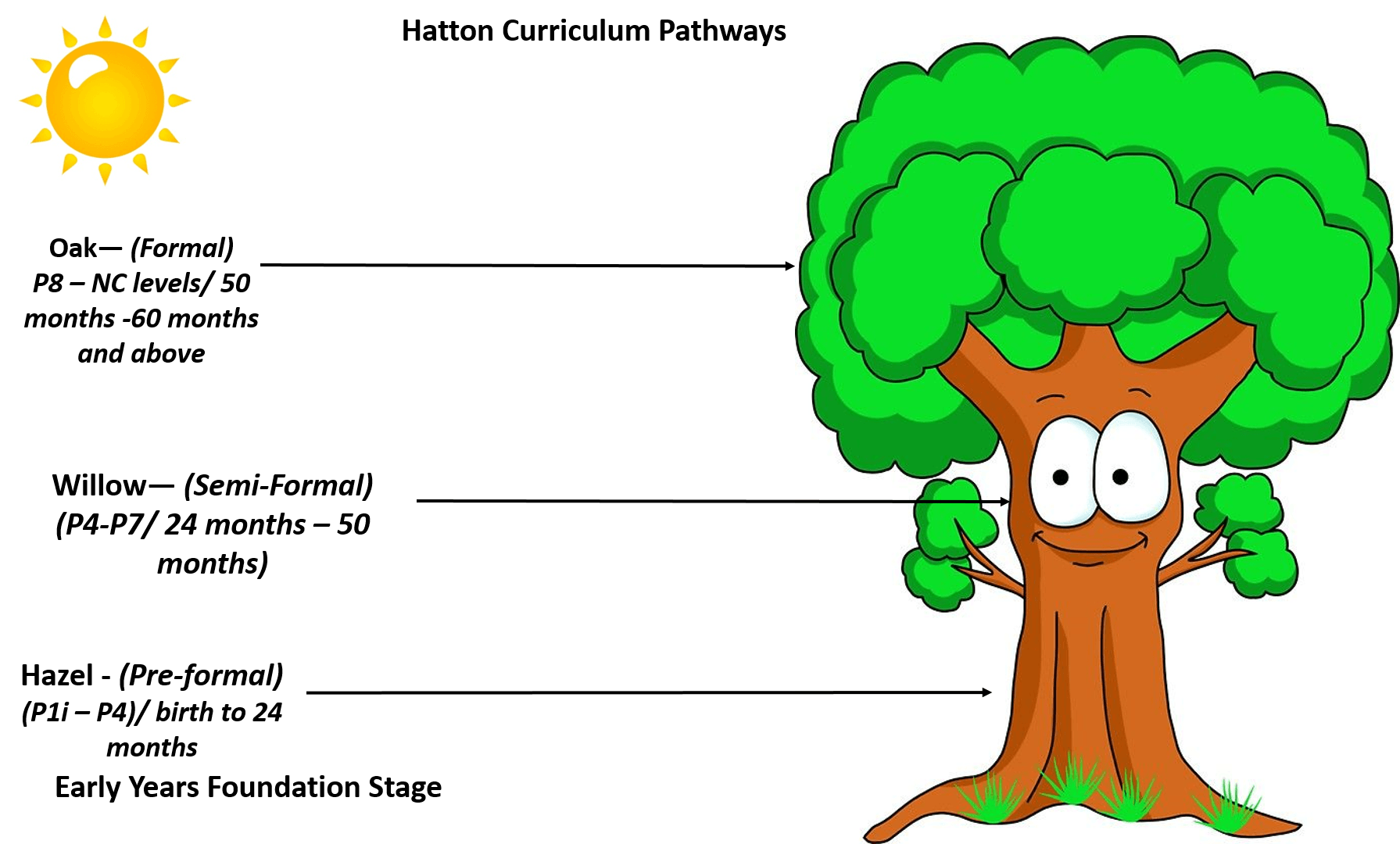 Changes to Individual Education Plans (IEPs)
Historically, every child in school has had an Individual Education Plan in place. The targets specified on the IEPs have been generated following discussion between the class teachers, parents and therapists. These have been reviewed on a termly basis.
Following changes in national guidance IEPs are no longer a statutory requirement, however we feel that it is important to have clear targets that the children are working to. With this is mind changes are being made to IEPs within school. Going forward each child will have a Personalised Learning Plan (PLP). This will contain yearly targets, which are closely linked to the child's EHCP outcomes. The PLPs will also focus on the child's barriers to learning and how these can be broken down. These will be discussed and developed through discussions at parents evening . Attached is an example of what the personalised learning plan will look like.
Assessment—How will this change?
Prior to this school year we have monitored and assessed the pupils progress using the P levels. These were level s that broke down early learning skills into smaller steps. As of this year these are no longer being used in the same was following guidance from the government. This has enabled us to look for an assessment tool that better fits the needs of our pupils and links to the changes in the curriculum we have made. Therefore, during this school year we will be moving away from using the P levels to report on a child's progress. We will be using a programme called EARWIG. This will enable us to link a child's progress much more closely towards their EHCP outcomes and well as building a learning journal for the children that will high light their progress. Once staff are trained and used to using this programme more information will be sent to parents about what they can expect to see when we are reporting on their child's progress.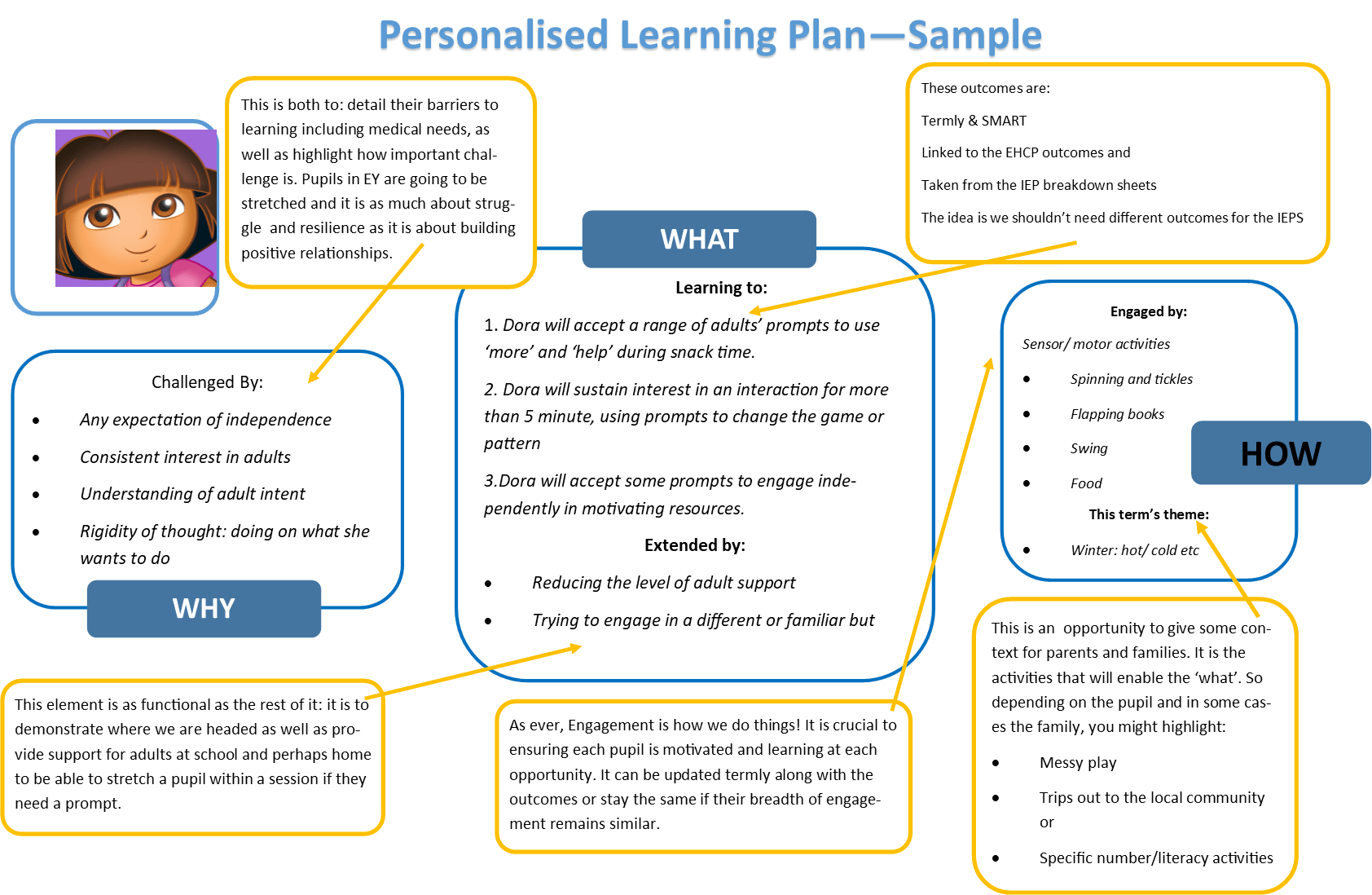 Maths at Hatton
At Hatton we use a sensory approach to teach Maths. Children first learn new maths concepts using hands on material (concrete). They then move on to drawings or using pictures (representational). The last step is to convert information into numbers and symbols (abstract). Children who struggle with maths often have trouble making sense of the (abstract). For our children at Hatton they also struggle to use, apply and transfer what they have learnt as well as generalising it into everyday life.
A sensory approach to teaching maths is not just limited to looking and listening, instead it tries to use all their senses. Sensory learning conveys information through touch and movement, called tactile and kinaesthetic elements, as well as sight and hearing. In sensory lessons, children will not engage with all the senses at the same time, but will often engage with the material in more than one way. The sensory approach to maths enables our children to be the visual, kinaesthetic and auditory learners.
A sensory approach includes the use of Numicon; based on a proven concrete-pictorial-abstract approach, Numicon encourages children to explore maths using structured imagery and apparatus in order to understand and explain mathematical concepts. If a child learns something using more than one sense, the information is more likely to be retained and transferred into everyday life.
Gross/fine motor skills and early writing skills
At Hatton we break down children's learning into small steps using practical and play based activities.
In order for children to develop their writing skills we first focus on their Gross motor skills and fine motor skills, then move on to writing using a pen or pencil. Without having good gross and fine motor skills children lack the strength and control to use mark making tools functionally and appropriately.
Children practise their gross motor skills at Hatton through play, which helps with physical development and provides children with the abilities they need to explore and interact with the world around them. Through gross motor skills we enable children to perform everyday functions, such as standing, walking, running, and sitting upright. This also includes hand-eye coordination skills such as ball skills (throwing, catching, kicking).
Alongside the gross motor skills we look at functional approaches to using fine motor skills to further develop hand-eye coordination. This enables a child to complete important tasks such as writing, feeding or doing up buttons and zips. At Hatton we develop these skills alongside early writing skills so that children can learn to develop a good tripod grasp when holding a pen or pencil. We also regularly lease with the OT at Hatton in order to seek advice and strategies to further support children with their gross and fine motor skills.
Shoulder exercises work on improving the strength and stability of the shoulder muscles. This helps the hand and arm to function correctly.
Activities to develop shoulder stability
Using a paint brush and easel

Ball games /pushing a therapy ball up a wall

Leopard crawl / pushing against each other

Hand pushes for 5 seconds
Reading and phonics
Sensory Stories: Many teachers use sensory stories to engage their class in books and make them more relevant to their needs. These sessions are carried out with the whole class or in smaller groups depending on the needs of the children. A range of props are used to bring the story to life (these can include sounds, smells and visual aids as well as tactile and physical props). Many teachers will also simplify the texts to meet the needs and levels of understanding within their class and some re-write the text using Communicate in Print to further develop how accessible the book is to their class The children respond well to this sessions and it is great to see them engaging with the story through the use of props.
Communication
Communication across the day is a focus across the school with the aim of embedding communication across the school day (in whatever way is suitable for that child – PECS, Makaton, verbal language etc.) and ensuring consistency amongst staff in terms of use of symbols and visual aids. It is expected that communication should be a focus in all areas of the curriculum (not just discrete sessions) and adults are collecting data throughout the week for each child in their class (regardless of their mode of communication). Planning has also been adapted to include more detail on expected/possible communication in each activity and part of the day. We have 2 PECS implementers in school who spend time in classes supporting and advising teachers and class staff, working with children on a one to one and small group basis and troubleshooting ideas and strategies for children who are not progressing in their use of PECS. Many of our pupils use PECS as their main means of communication with some using electronic communication devices such as the Grace app or Proloquo2go. We also have some pupils who use Makaton to communicate as well as those who have verbal language. A variety of strategies and teaching activities are used to further developing pupil's communication skills – these can include discrete PECS sessions, SALT sessions, Colourful Semantics, Play sessions, etc. All classes use schedules to ensure that children know what is happening throughout the day (these are personalised for individuals and classes) as well as visual aids such as first/then and 'I'm working for' cards, break, wait, critical communication boards and adults critical communication symbols.
Phonics Schemes
The main phonics scheme used throughout the school is "Letters and Sounds" providing a 6-phase teaching programme to teach children how the alphabet works for reading and spelling. This is complemented with other schemes where necessary.
Letters and Sounds is a phonics resource published by the Department for Education and Skills in 2007. It aims to build children's speaking and listening skills in their own right as well as to prepare children for learning to read by developing their phonic knowledge and skills. It sets out a detailed and systematic programme for teaching phonic skills for children starting by the age of five, with the aim of them becoming fluent readers.
| | |
| --- | --- |
| Phase | Phonic Knowledge and Skills |
| Phase One | Activities are divided into seven aspects, including environmental sounds, instrumental sounds, body sounds, rhythm and rhyme, alliteration, voice sounds and finally oral blending and segmenting. |
| Phase Two | Learning 19 letters of the alphabet and one sound for each. Blending sounds together to make words. Segmenting words into their separate sounds. Beginning to read simple captions. |
| Phase Three | The remaining 7 letters of the alphabet, one sound for each. Graphemes such as ch, oo, th representing the remaining phonemes not covered by single letters. Reading captions, sentences and questions. On completion of this phase, children will have learnt the "simple code", i.e. one grapheme for each phoneme in the English language. |
| Phase Four | No new grapheme-phoneme correspondences are taught in this phase. Children learn to blend and segent longer words with adjacet consonants, e.g. swim, clap, jump. |
| Phase Five | Now we move on to the "complex code". Children learn more graphemes for the phonemes which they already know, plus different ways of pronouncing the graphemes they already know. |
| Phase Six | Working on spelling, including prefixes and suffixes, doubling and dropping letters etc. |
Reading Scheme
At Hatton we encourage children to develop an enjoyment for books and to understand that print has meaning. We aim to make the teaching of reading as individualised as possible. Our Children have access to a wide variety of books that are appropriate to all readers, and we use the Oxford Reading Scheme Books and resources for all ages and reading levels, which focus on skill development. Children take part in shared reading using 'big books' and topic books, and these are brought alive by making them multi-sensory. Books are also supported with the use of "Makaton" signing/symbols and "Communicate in Print" to support our learners access the meaning.
Results
Information on data, statistics and research, including KS2 results can be found by clicking here"
Frameworks